This September, I met some of the most faithful and committed United Methodist's I've ever encountered. Rev. Tracy McNeil Wines of Clarendon UMC and I traveled to the Central Congo Conference of United Methodism to learn more about the ministry of missionary pilot, Jacques Umembudi and our UM sisters and brothers in the Congo. Jacques is one of our denomination's missionary pilots bringing hope to many of the geographically isolated mission stations in central Congo. Living and based at Kananga, Jacques and his wife, Valentine, are responsible for "Wings of Caring," one of United Methodism's three aviation ministries in the Congo.

Clarendon and Community of Faith collected over 250 pairs of reading glasses which we distributed over three communities (mission stations). To watch folks use the hymnal or bible to test out their glasses brought tears to my eyes. The gratitude was palpable. There were also soccer balls for every community as well. We brought some requested airplane tires (something a whole lot less expensive to carry as luggage than ship commercially!) along with some other aviation supplies and some hard to acquire personal items.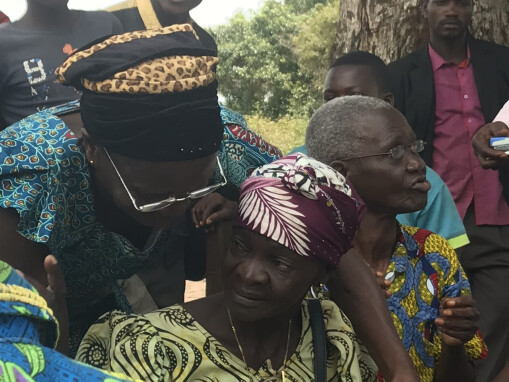 We were proud to learn that the United Methodist Church was responsible for 5% of all the hospitals in the Congo. Actually 40% of all hospitals are managed by faith organizations - Presbyterians, Mennonites, Disciples, Catholics and more. Below is the hospital at Wembo-Nyama.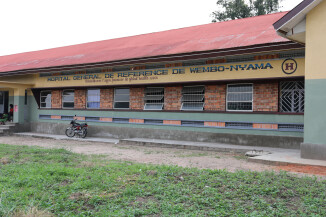 There are lots of ways to help in the coming months. Because aviation fuel is difficult to obtain, we're working to raise enough funds for a large bulk purchase. You can support the aviation fuel fund at https://www.gofundme.com/wingsofcaring and learn more about this particular United Methodist ministry by clicking here.
In Wembo-Nyama, some of the English teachers at the local college asked for English DVD's of TV shows so folks could listen to spoken English. So Community of Faith is collecting appropriate DVD's along with small, portable DVD players. There's no electricity there except what's available by solar panels in the hospital and computer lab so DVD players with rechargeable batters are best.
For a brief motorcycle ride through the mission station of Dingele (between Wembo-Nyama and Lodja), take a look.